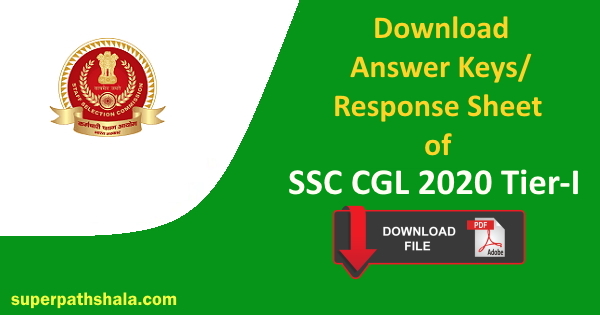 SSC CGL 2020 Tier-I Question Paper Pdf Download: The Computer Based Examination for the Combined Graduate Level Examination, 2020 (Tier-I) was conducted by the commission from 13, 16, 17, 18, 20, 23 & 24th August, 2021 at different centres all over the country. The exams scheduled from May 29, 2021 to June 7, 2021 got postponed due to the second wave of COVID. The candidates' Response Sheet along with the Tentative Answer Keys are now available on the link given below. The candidates may login as per the procedure mentioned through the link provided below
SSC CGL 2020 Tier-I Question Paper Pdf All Shift
Please upload Answer sheet/ Response sheet of 18 August 2021 Shift-III. Send your question paper at Telegram @superpathshalacom or send your question paper link
SSC CGL Previous Year Paper
Candidates looking for a stable and high-paying job must be preparing for SSC CGL Examination. You must go through the previous year's papers of SSC CGL and understand the type of questions asked in the exam. SSC CGL Previous year paper shows a diverse nature in the questions asked and it is also seen that the exam is becoming difficult over the years. You must go through the previous years papers for SSC CGL to get an idea of the questions likely to be asked in the exam.
How is the previous year's paper helpful in SSC CGL 2021-22 Tier I preparations?
Get all the questions asked in SSC CGL 2020-21 Tier I Exam
Know the difficulty level of questions asked in the exam.
Note down the topics asked in all the subjects.
Make a list of the topics that are your weaker sections & start working on them.
Make sure to go through all the general awareness & current affairs questions to get an idea of the areas from where questions are asked.
SSC CGL 2020 Answer Key/ Response Sheet Pdf
The Computer Based Examination for the Combined Graduate Level Examination, 2020 (Tier-I) was conducted by the Commission from 13.08.2021 to 24.08.2021 at different centers all over the country.
The candidates' Response Sheet along with the Tentative Answer Keys are now available on the link given below. The candidates may login as per the procedure mentioned through the link provided below.
Representations in respect of the tentative Answer Keys, if any, may be submitted online from 02.09.2021 (6:00 PM) to 07.09.2021 (6:00 PM) on payment of Rs. 100/- per question/answer challenged. Representations received after 6:00 PM on 07.09.2021 will not be entertained under any circumstances. The candidates may take a print out of their respective Response Sheets, as the same will not be available after the above-specified time limit.
Answer Key/ Response sheet of SSC CGL 2020 has been released. Follow the following steps to download your Answer Key/ Response Sheet.
First visit this link – Click here
Enter your Roll number ( As per Admission Certificate) and Password (As per Admission Certificate) as DOB in DDMMYYYY format
After login download your Answer key/ Response Sheet
Download Previous Year Paper